Congratulations! You've decided to study abroad in Ireland. Now comes the hard part: figuring out exactly where in Ireland would be the best fit. You've already decided that rain isn't a deal-breaker, right? Good. Let me see if I can help you choose a location.
What type of city do you see yourself in?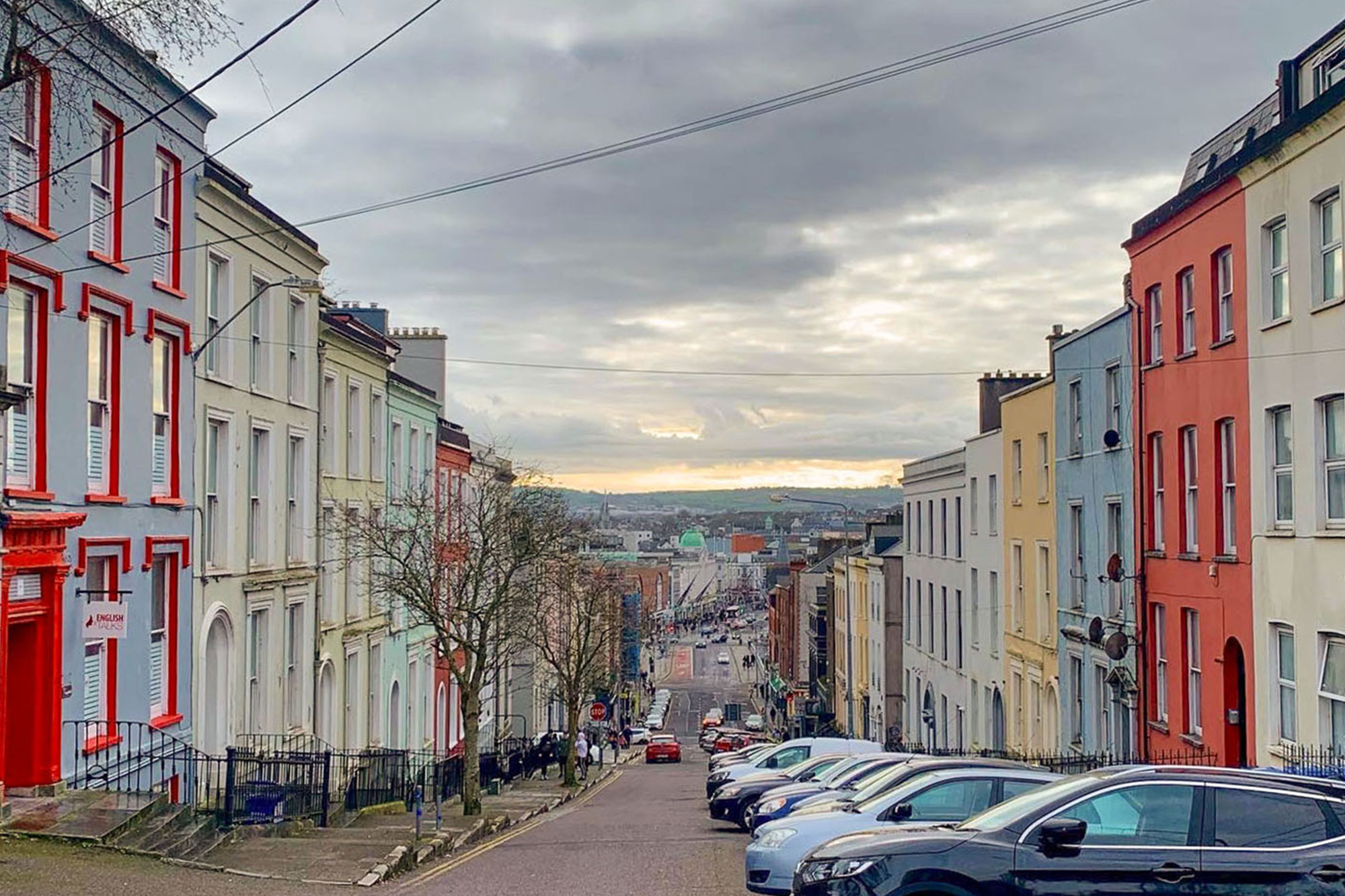 I chose Cork because I wanted a balance between a big-city and small-town feel. The city has a compact size and a significantly smaller population than Dublin. Cork also has a decently larger population than Galway, so it was the sweet spot for me.
Cork's city center has that well-loved European feature of old mixed with new. Cork has a uniquely Vikings-influenced past (yes, Vikings) and you'll see Gothic architecture as well.
I'm eternally grateful to my program advisor who helped me through the housing process. I lived about a 40-minute walk from campus, which was cut down to 15 minutes on rainy days when I took the bus instead. Walking through the city streets was very easy to do, and I enjoyed feeling part of the local community.
My visits to Galway and Dublin while on study abroad confirmed I'd made the right choice in place to live. Dublin is wonderful, with pockets of hidden charm, but at the end of the day it shares many similarities with big cities all over the world, so keep that in mind. Galway is the complete opposite and a definite must-see. It's completely charming—with quaint streets and an enchanting ability to make you feel as if you've transported into another time. Traditional and modern Irish music plays on nearly every corner with musical groups performing on cobblestone streets.
Pro tip: Galway doesn't have its own airport, so it's likely you'll fly into Dublin. It's super easy to get between these places by train or bus, so you'll have the chance to see them all.
What educational opportunities are you looking for?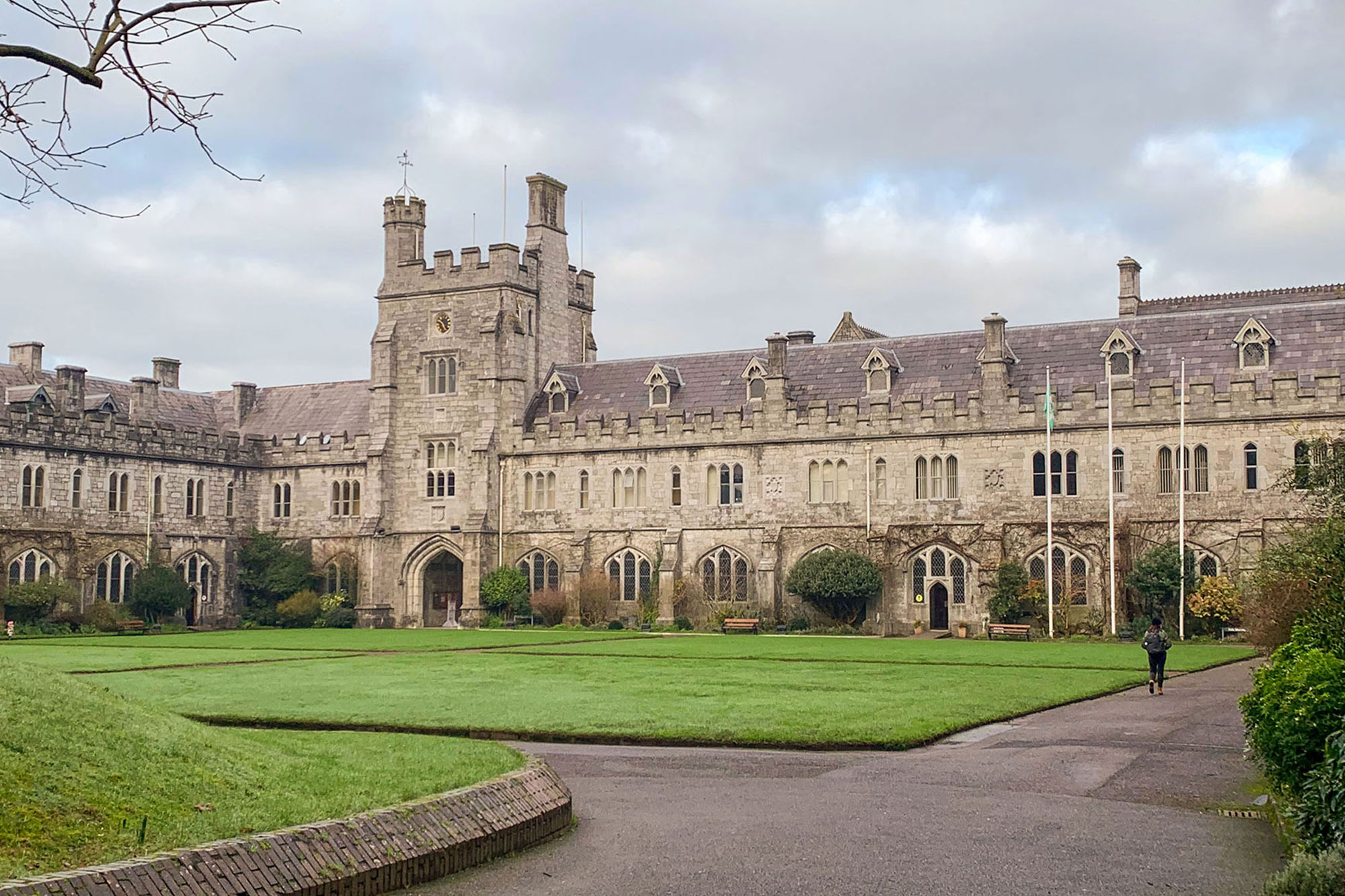 The University College Cork program is an immersion program, which means you'll be treated like every other student. You'll have to search through the course catalog to choose classes and register at the same time as everyone else. It takes research, for sure, but you have to do that back home, anyway, so it's not that much different.
I highly recommend focusing some of your courses on Ireland—you'll find a lot of options. Subjects like Irish folklore, medieval Irish society, Gaelic (in Standard Irish: Gaeilge) language, and Celtic civilization were all available when I studied abroad (course options will vary, of course). Some of the courses have field trip series to help visiting students dive into Irish history and enrich their experience in Ireland. Plus, these courses will give you a bucket of fun Irish facts to share with friends and family back home!
Fair warning: the academic system is different in Ireland. While I had an overall positive experience with the Irish education system, it was a bit jarring at first to learn that the entire course's grade rested on two assignments. Just two!
I was accustomed to reading every assigned book and article to gain in-depth knowledge on every topic. In Cork, however, I leaned into it and enjoyed the flexibility of being able to choose the topics I wanted to focus on. This allowed me to budget my study time in a manner that accommodated exploring without risking my academic performance.
Pro tip: I recommend working closely with your program advisor in the beginning to understand how grades are converted between UCC and UC. A couple of well-timed one-on-one meetings will help ensure your academic success, as it did for me.
Are you looking for professional experiences beyond the classroom?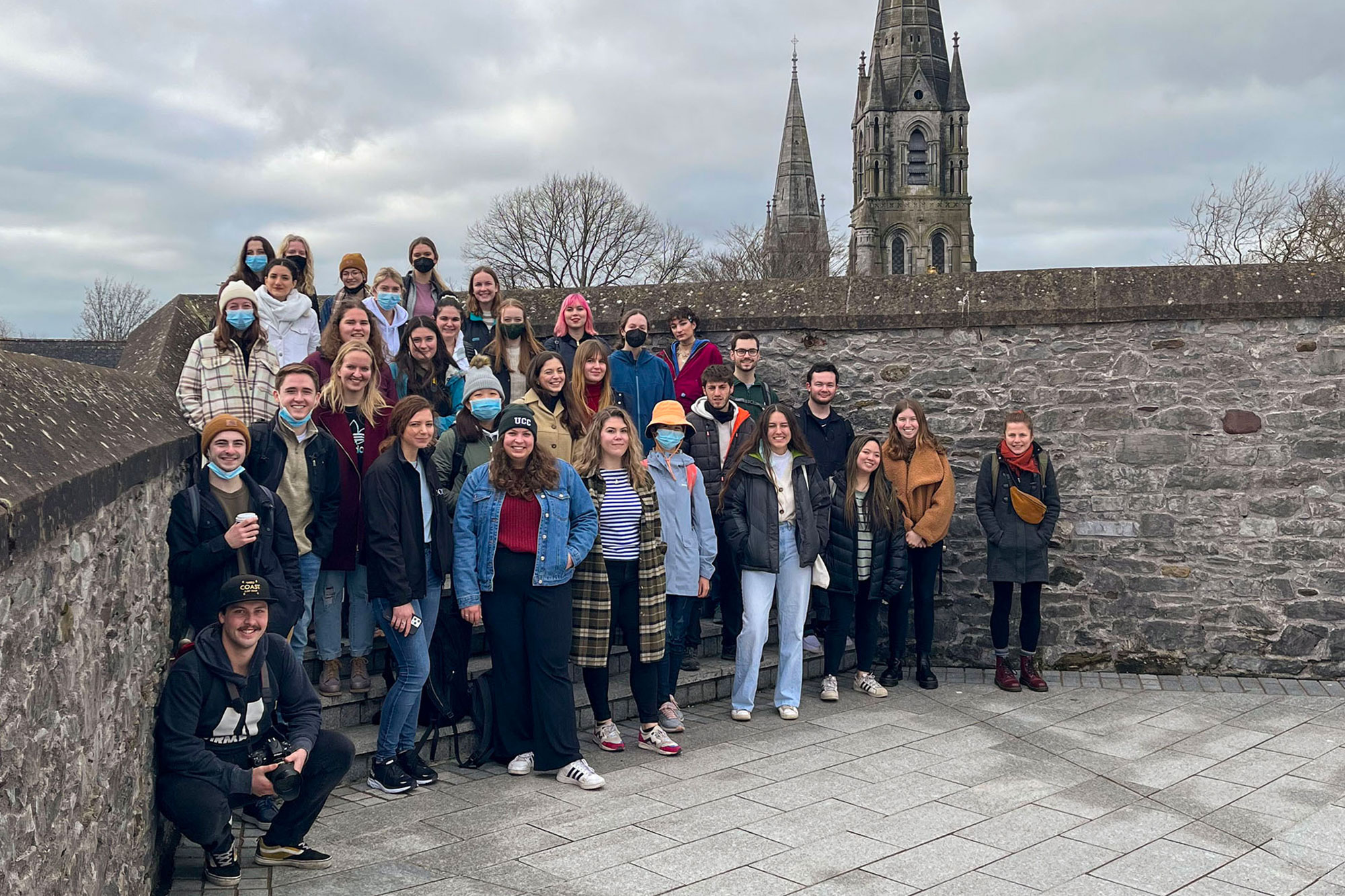 I knew I wanted to have professional, career-building experiences to bolster my resume, and that led me to seek out options. Thanks to a recommendation, I got in touch with the director of EmployAgility before leaving the US.
The EmployAgility program is a unique and valuable opportunity for students who want to work on professional development. It offers an online professional development module that you can combine with real-world experience in volunteering, internships, research, etc. After completing the self-paced program, you receive official recognition from the University College Cork that you can add to your resume.
I was lucky to be able to complete volunteer work in California for the hands-on portion, and finish the online portion in Ireland. I felt incredibly supported by the program director, and was very happy with my decision to take part in the program.
Pro tip: The resume-screening tool was really helpful. It made suggestions for strengthening the content in my resume. That software was more valuable to me than guidance I'd received in the past, especially given the growing prevalence of electronic resume readers.
Do you consider yourself a foodie?
Cork is well recognized in Ireland as being the country's capital for foodies. Of course, there are the traditional Irish pubs that you have to try, but you'll be amazed at the number of non-Irish food options. Cork's culinary variety is astounding. After all, Ireland's food revolution started in Cork way back in the '70s and it changed the way the people of Ireland (and lucky visitors like me) look at food.
The range of produce and artisanal products on display every day at the English Market has been a special draw to the city since 1788. It's a semi-outdoor market that hosts local vendors and it's packed with incredible smells, tastes, and sights. You simply must step through the front gates and explore farmhouse cheese to handmade chocolate, fish pulled that morning from coastal waters, and fruits and vegetables gathered from the surrounding countryside. Lunch at the market is a delightful experience of "locally sourced food" like hearty bowls of Irish stew. Or you can opt for Asian-influenced treats like poke bowls and sushi.
I was a bit nervous about going to Ireland as a vegetarian, but I had no trouble finding delicious things to eat in restaurants and stores!
Pro tip: Wander the market until you're very hungry, then take your lunch across the street to the Bishop Lucey Park if the weather is good.
What things do you want to do and see in Ireland?

Ireland is a heck of a lot smaller than California and the public transportation system is amazing. When you arrive for student orientation, you'll quickly learn that there are many ways to see everything you want to see in a country that's one-sixth the size of California.
I purchased a student Leap card, which gave me reduced-price tickets on buses all over Ireland. In wet weather, I relied heavily on the bus to get to class and to the city center (bus lines 205 and 220, specifically). I downloaded the Moovit app so I could type in any destination and see all available transit options, including public transportation.
My final advice on Irish transportation is to be patient with yourself. At first, it seems weird and scary, but taking the bus and navigating the systems becomes second nature really quickly.
Living and studying in Cork exposed me to a different pace of life, new perspectives, and a chance to grow as a person, both academically and professionally. The truth is, you will be able to check off all the items on your Ireland bucket list and then some by choosing to study abroad in Cork. I sure know I did.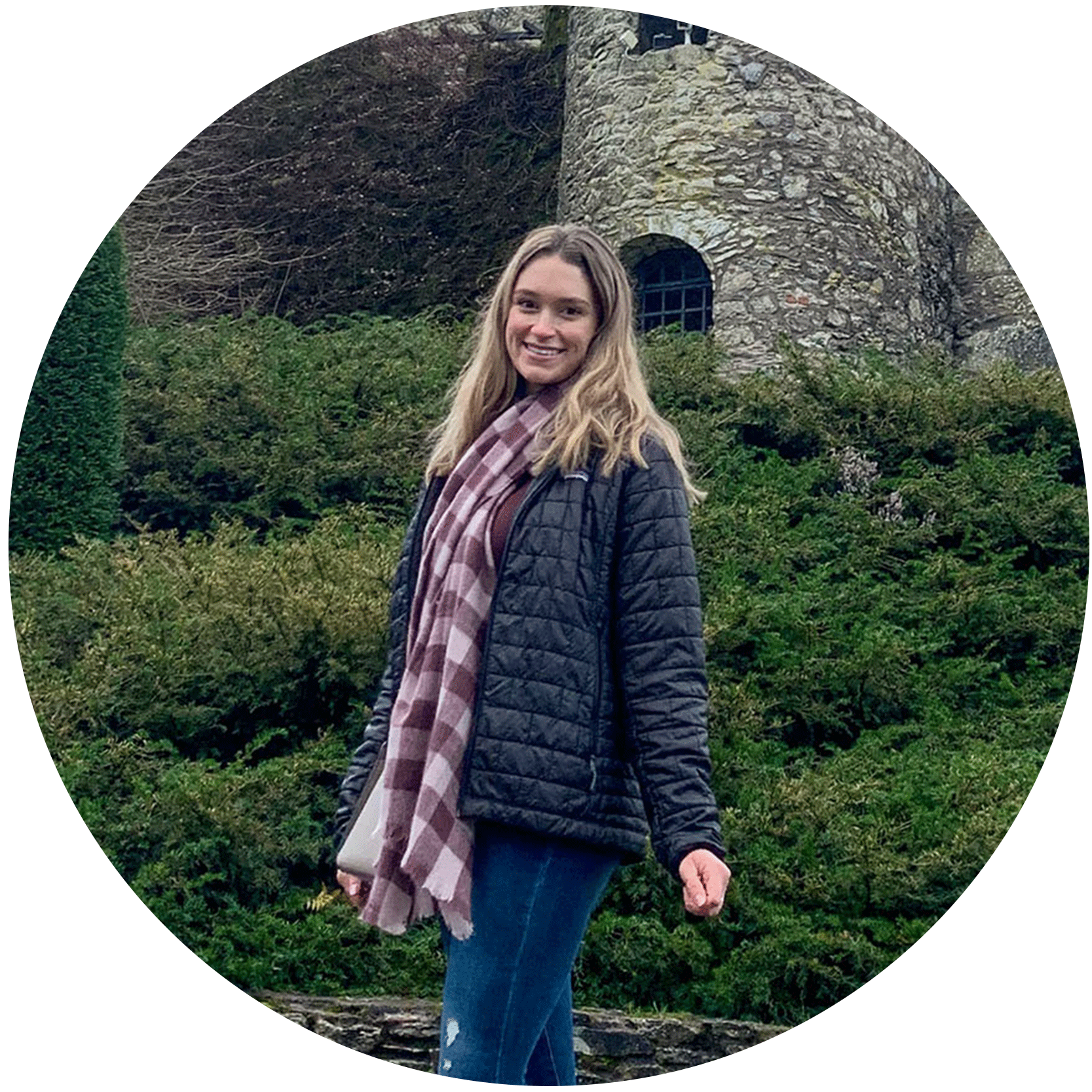 Study Abroad Program: University College Cork
Program Location: Cork, Ireland
Other Countries Visited: Northern Ireland, France, Austria, Italy, Spain, Portugal, the Netherlands
Home University: UC Santa Barbara
Major: Political Science
Year: Senior
Studying abroad has been a dream of Katelyn's since middle school. As a freshman at UCSB, she began researching different program options and landed on Ireland as a destination, in part inspired by her grandmother's Irish heritage. While abroad in Ireland, Katelyn immersed herself in Irish and European studies, explored professional development opportunities, and traveled around Ireland and Europe in her free time. She cherishes the wonderful friendships she made and the diversity of cultures she experienced, and is now eager to help prospective UCEAP students find their UCEAP fit!