Packing is an art, but getting it right for an entire semester or year abroad is genius. As you consider the climates you'll experience, places you'll visit, and occasions you'll dress for, it's easy to over-pack and pay excessive baggage fees. With a little strategy, you can fit every necessity for life abroad into a single suitcase (okay, maybe two). Here's how.
Pack Items You Actually Wear
While that broad-brimmed hat, bojo kaftan, or clever bowtie will be just the right touch for a glamorous weekend, it may not be a part of your day-to-day wardrobe. The items you wear every day at home will most likely be the same ones you prefer abroad.
TIP: Your favorite clothes are most likely resting at the top of your laundry hamper.
My best advice is to pack light when coming to Korea. You will buy so many things—souvenirs, clothes, and shoes are everywhere. Plus, winter padded jackets take up a lot of space. I recommend wearing layers and heavier shoes to the airport. I thought I packed light, but apparently not light enough!
Megan Yung Chan, UC Irvine, South Korea
Use the 12-Day Trick
Plan outfits for 12 days: two full weeks and one weekend. No matter how long you are abroad, these outfits will be enough to attend class, explore, and make your mark at special events like an internship interview or high tea in England. If your closet is tempting you to pack beyond 12 days, remember that shopping abroad is part of the experience, too!
Figure Out the Weather
Weather? Beyond the borders of California, you'll find it everywhere. If colder temperatures are in the forecast, pack at least one heavy coat and lots of thin layers, which can be worn as separates on warmer days.
One thing I wish I'd researched better is how the weather would be during my time in Korea. I did not pack the right clothes for cold winter weather. I'm from LA and have no experience with seasons!
Paloma Camacho, UC Los Angeles, South Korea
Check sites like TripAdvisor for monthly average temperatures, and brace yourself for the metric system! Those cryptic Celsius degrees are used everywhere but here. For fast conversions, you can do in your head, use this hack:
°Celsius to °Fahrenheit: Multiply the temperature by 2 and add 30
(actual formula is multiply by 1.8, add 32)
Check Cultural Norms
If you're traveling to a conservative country, reading up on the norms can save you from packing items you'll feel uncomfortable wearing. This applies especially to dresses, shorts, and swimwear. Other cultures can be more formal in education settings. For instance, virtually no country in the world except America views sweatpants as acceptable in public, but you may want your favorite pair for lazy, chilly days at your dorm or apartment. In many places, flip-flops are not worn in public (plus, they scream American in a bad way).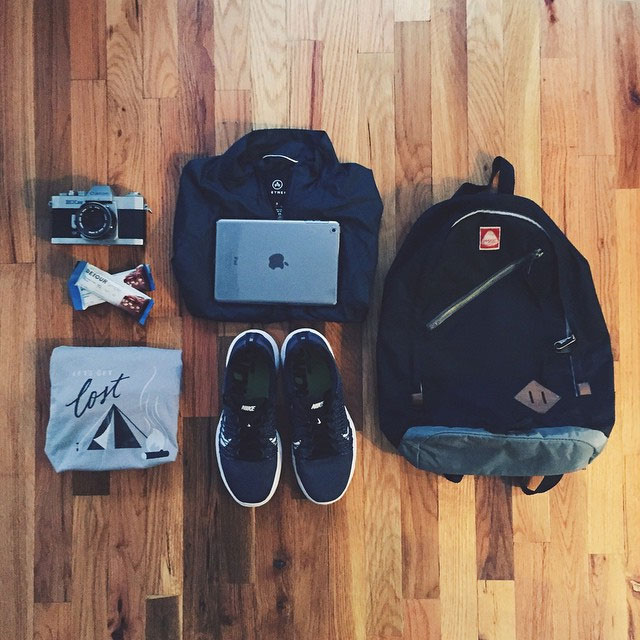 Every Item Has Two Mates
As you start sifting through clothes in your closet, follow the rule that each item must be wearable with two other items or it doesn't make the cut. For instance, choose pants that can be paired with a casual top by day and a formal shirt/blouse by night. This way, you'll have plenty of options to mix and match and still have enough outfits for two weeks and a weekend.
3 Pairs of Shoes
Choose shoes that are appropriate for the weather and that match nearly all your clothing. No more than 2-4 pairs—3 is the magic number:
Shoes for everyday
Shoes for heavy walking or exercising
Shoes for special events
Ditch and Replace
Don't forget, you can replace worn clothes with new ones. You'll find plenty of affordable shopping choices abroad, and even better choices if you save up in advance and plan for a little shopping during your semester. New clothes make great souvenirs and you'll fit in like a local!
An important tip is to not bring a lot of clothes because the clothes in Korea are really cheap and good quality. The stores here carry the latest fashion. It's best to pack light, so you can bring gifts and new clothes back home for yourself.
Husnaa Formoli, UC Davis, South Korea
Know any good packing strategies? Share your favorite packing tip in the comments.