3-MINUTE TRAVEL GUIDE:
ST ANDREWS, SCOTLAND
DON'T FORGET TO PACK An actual waterproof (not water-resistant) raincoat.
It doesn't rain much in St Andrews compared to the rest of Scotland but when it does, it rains with a fury.
BEST LEFT AT HOME Umbrella! It will take up much-needed space in your suitcase and it won't survive the North Sea gales anyways.
Buy one there if you need it.
WHERE TO LIVE With just three main streets, nothing is very far from anywhere. Hall allocation is based on what you marked for room preferences – you can't choose a specific hall. I lived in Gannochy House, the modern annex of St Salvator's Hall, also known as Sallies. It's a gorgeous historic building right in the center of town and two minutes from the beach. There is a different concept of distance in St Andrews so if you choose to live in university apartments, just know that DRA does lives up to its nickname of "D R Far Away."
BEST EATS NEAR CAMPUS No matter the weather, you can't go to St Andrews without having gelato from Jannettas and their dozens of rotating (and occasionally unique – looking at you, haggis gelato) flavors! My favorite café is Cottage Kitchen. They serve the absolute best coffee I've had in the UK along with a variety of teas and house-made cakes. Maisha is the best Indian restaurant in town with a great student deal that comes with enough food for days. Mozza also makes amazing Neapolitan pizzas at an affordable price.
FAVORITE SCOTTISH ACTIVITY Ceilidhs! Ceilidhs are a traditional Highland country dance and there's a caller so it's easy for beginners to learn the steps. The dances are energetic and it's easy to spend a night twirling away.
WHERE TO STUDY The university libraries or one of the many cafés, but I personally liked studying on the cliffs near St Andrews Castle with a thermos of hot tea.
MUST-TRY LOCAL DISH HAGGIS. It is made of minced sheep organs, beef, oatmeal, onions, and spices and it is typically served with the traditional sides of mashed neeps (a sort of orange turnip) and tatties (potatoes). It sounds horrible and looks questionable, but it is honestly really good. You just taste the spices. It is celebrated in Robert Burns's poem, "Address to a Haggis" and is often eaten on Burns Night, accompanied with bagpipes and cut with a ceremonial knife. Definitely give it a try if you're in Scotland. They also make vegetarian versions!
BEST PHOTO OP St Andrews is a very photogenic town but my favorite place to take photos is at the end of the pier (at the top section!) The top part of the pier can be daunting, especially in the wind, but it gives an absolutely gorgeous panoramic view of the town. It's particularly beautiful at sunset! A slightly different but also panoramic view can be captured across town if you walk down West Sands.
BEST HIKE St Andrews is part of the Fife Coastal Path where you can literally hike the entirety of the Fife coastline (117 miles) so a good hike is right on your doorstep!
BIGGEST FAIL Wearing a slightly-too-long gown to hall ball and faceplanting twice during the ceilidh dance.
BUY THIS Railcard! St Andrews is quite isolated so you'll want to invest in a railcard for cheaper train fares across the UK.
NOT THAT £1 scotch eggs from Tesco – try a real one or save your £ for caramel wafers instead.
MOST INTERESTING CLASS Mapping the Boundaries of Emerging and Evolving Securities
BEST PART OF THE PROGRAM The traditions of ancient 600-year old St Andrews were great but the best part is definitely the lifelong friends I've made from all over the world.
UNFORGETTABLE WEEKEND TRIPS Quick trips down to London, hiking (and getting lost) in the Highlands on the Isle of Skye, running around Durham Cathedral and pretending I'm at Hogwarts, and adventures across Italy.
FAVORITE UCEAP TRIP UCEAP's Spring Trip to the Peak District and especially our time at Chatsworth House. They had a "Five Centuries of Fashion" exhibition so we saw their amazing collection of everything from coronation gowns to high fashion to the Duke's favorite (and cheeky) quotes embroidered on jumpers.
BEST LOCAL EVENT Raisin Weekend in November is on a class of its own. Make sure you buy your shaving foam early.
BONUS PRO TIP It's only £3 for an 18-hole round of putting on the Himalayas course! It's right next to the Old Course (so you can tell all your friends you technically golfed there) and a great stress reliever during revision.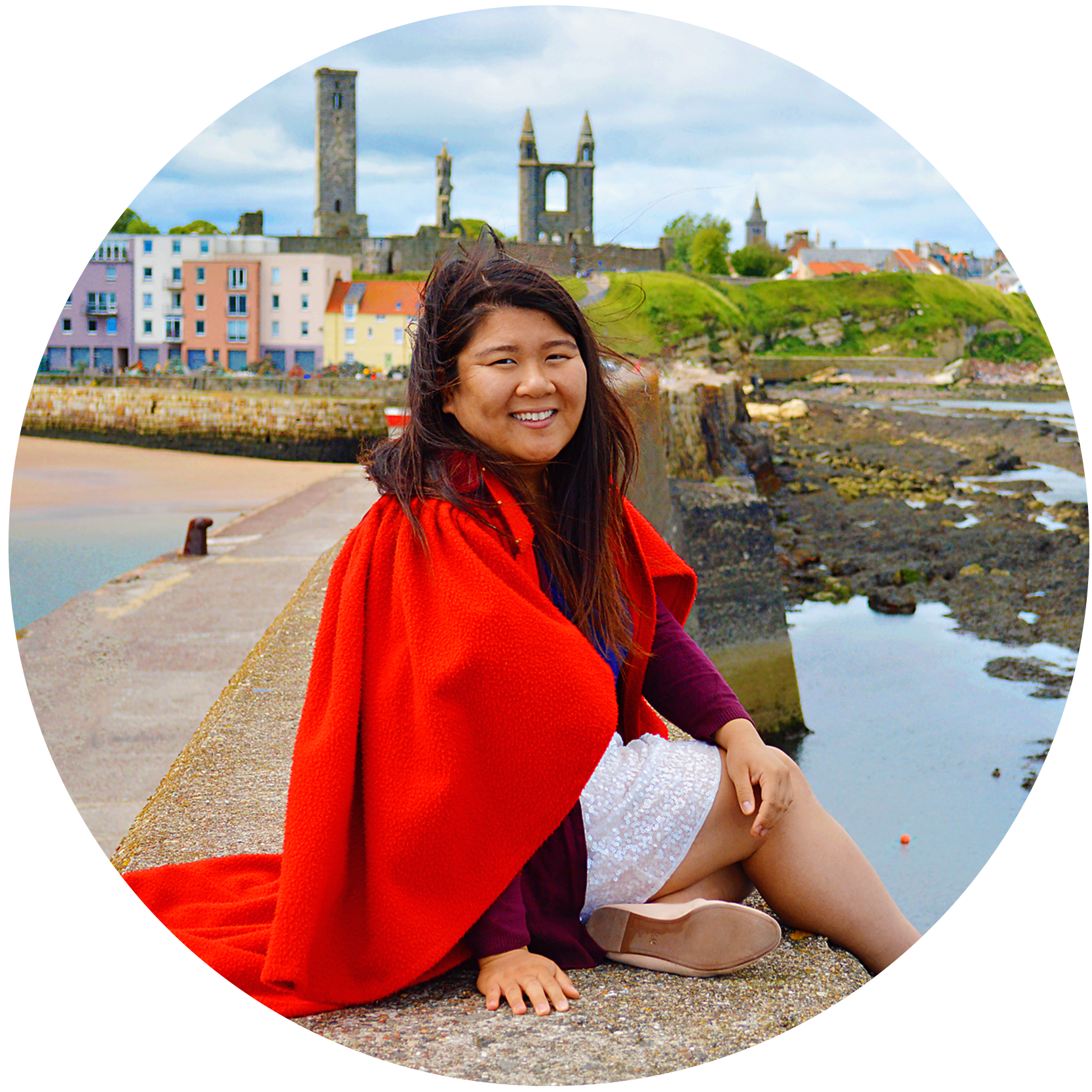 Samantha Ku
Study Abroad Program:  Scottish Universities, University of St Andrews
Program Location: St Andrews, UK-Scotland
Other Countries Visited: England, Italy, Sweden
Home University: UC Irvine
Major: Political Science
Year: Senior (Graduating June 2018)
Samantha Ku is from Los Angeles and a political science major at UCI.  She worked in terrorism research through UCDC and is writing her thesis on nuclear nonproliferation. Outside of her studies, she is a keen photographer and graphic designer. She passionately believes in an international education and has studied abroad at the London School of Economics and University of St Andrews and will be returning to Scotland as an intern at the United Nations House Scotland in January 2018. She loves to travel to beautiful places, explore museums and try new foods. Further details about St Andrews can be found at in her reflections on her blog and her travels and experiences abroad can be followed on Instagram (@bittersweetmajesty).