3-MINUTE TRAVEL GUIDE:
CORK, IRELAND
DON'T FORGET TO PACK A good quality rainproof jacket. Throughout the whole year in Cork, you can depend on rain every single day, especially in the winter months.
BEST LEFT AT HOME Shorts and tank tops! Ireland's temperature is predictably chilly all year long. Even the summer months see temperatures in the mid-60s. Bring your favorite down jacket instead.
WHERE TO LIVE The most convenient housing is in the apartments between the branches of the River Lee. Not only is it close to the university and in the middle of downtown, it's also the most entertaining area of the city.
BEST EATS NEAR CAMPUS Downtown Cork has loads of inexpensive, tasty restaurant food as well as pricier options for a special night out. Some of my favorites were Cameron Bakery, Franciscan Well Brewery and Brew Pub, English Market, and Market Lane.
FAVORITE IRISH ACTIVITY Pub crawls. You might think they're cliché, but pubs are truly the hub for Irish nightlife and a warm respite from the cold and rainy weather. Irish pubs are the ideal hangout—even for those who don't drink alcohol—because you can count on a live band nearly every night.
WHERE TO STUDY Any café near campus is great if you're not a fan of the library. The coffee shops are located all over the city. They usually provide reliable Wi-Fi as well as snacks and fun people-watching.
MUST-TRY LOCAL DISH There's nothing like a traditional Irish stew with a pint of Murphy's. They're hearty, warming, and delicious—the epitome of Irish comfort food.
BEST LOCAL EVENT While COVID-19 stopped any large, public celebration of St. Patrick's Day, it's an excuse to party from dawn 'til dusk that's appreciated by people of all age groups.
BEST PHOTO OP Richmond Hill at sunset is spectacular. It has the best views of Cork's cathedrals and sprawling green hills.
BIGGEST FAIL Not looking at the weather forecast before leaving my apartment every single day. Even though it may be sunny and beautiful at 11 am, storm clouds would often roll in an hour later.
BUY THIS Handmade Irish goods like wool sweaters and scarves. Ireland is known for a few specialty items and it's a great experience to see the places they come from.
NOT THAT Overpriced beer! Some of the cheapest and tastiest drinks you can get are made right in Cork or Dublin. When in Cork, make sure to order a Murphy's or Beamish as these are the local stouts.
MOST INTERESTING CLASS Music of Ireland with Professor Kevin McNally at University College Cork is an intriguing course for anyone who appreciates music.
BEST PART OF THE PROGRAM Being able to meet students from all over the world was an amazing experience.
UNFORGETTABLE WEEKEND TRIPS On a sunny day, take a short bus trip to Charles Fort in Kinsale. It's an easy way to see the beautiful Irish countryside. Also, the western coast of Ireland is dotted with small, rugged towns that feature classic Irish architecture and friendly people.
BONUS PRO TIP Don't be afraid to start a conversation or ask for restaurant recommendations. In my experience, the Irish people are extremely friendly and, once they have a pint in them, they love to chat you up and exchange stories.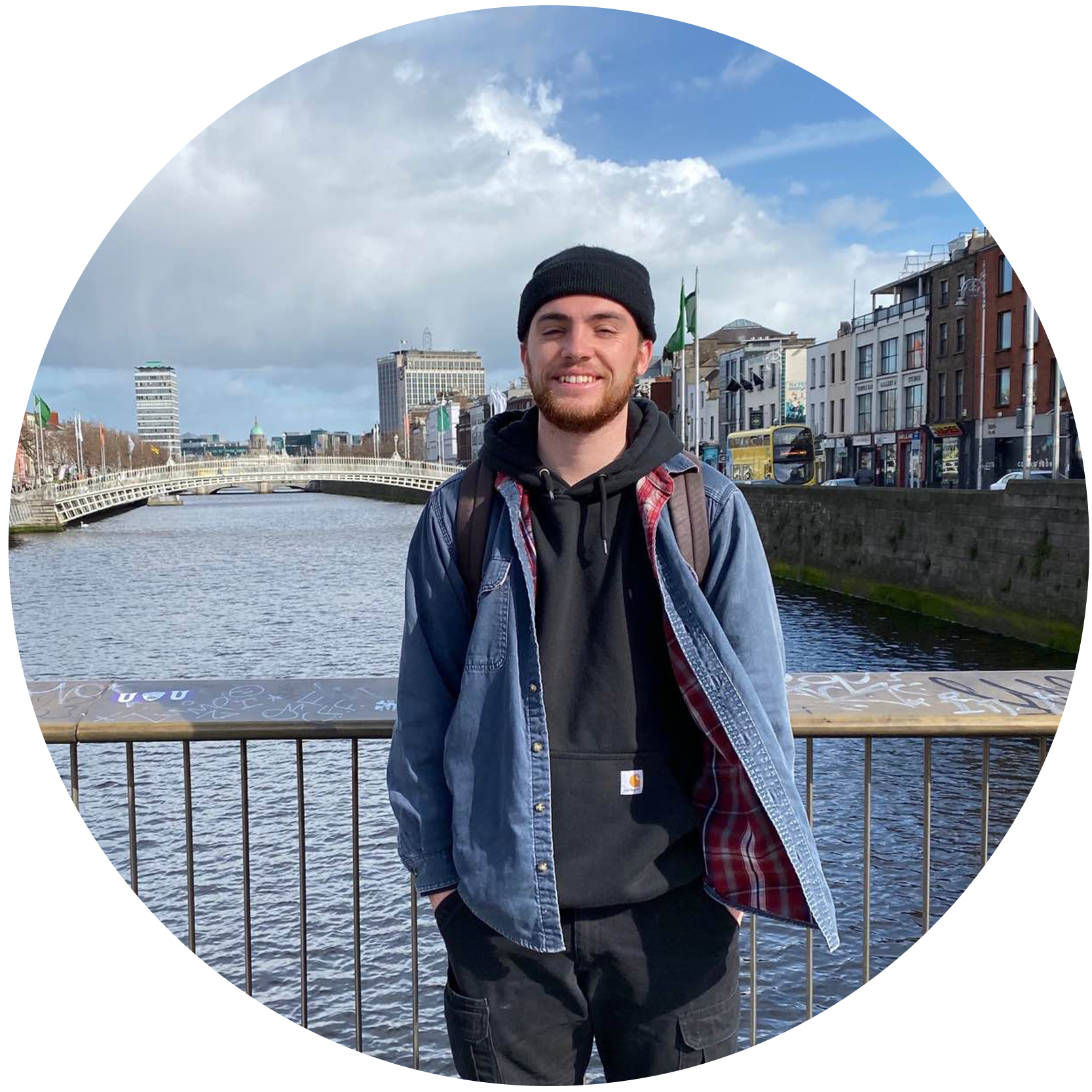 Owen Sowerwine
Study Abroad Program: University College Cork
Program Location: Cork, Ireland
Other Countries Visited: COVID-19 put a halt to travel
Home University: UC Davis
Major: Environmental Science and Management
Year: Senior
Owen is an Environmental Science major who went to Ireland to broaden his cultural perspective and learn about the environmental climate on the Emerald Isle. His interests include the outdoors, cooking, soccer, and music and he was able to satisfy all of them while studying abroad. Weekend trips into the countryside and other Irish cities were some of the best highlights of his trip, allowing him to experience local foods and interact with people from diverse backgrounds. The music scene in Cork was surprisingly active and connected his academic experience with local artists. While his semester was cut short due to the COVID-19 pandemic, he was able to explore the country and create lasting memories with friends from around the globe.